Fall 2015 marked the latest season most of us have ever climbed at Lion's Head.  Just when we all thought it was about to snow, warm weather rolled in, and we were given another opportunity to climb at Lion's Head.  I did just that, and made my way to finish off some topo work there and at TV Tower.
Given the Indian summer, the town of Lion's Head pretty much shut down.  Famed local Greg Williamson had taken off to the Red to send some his projects, but a few climbers and many hikers managed to trickle into town for one last hurrah to nature.  Everyone pretty much gathered at Rachel's Bakery, as that was the only late night venue open in town.  Here is some useful information should you find yourself at Lion's Head or Tobermory in the off season.
Camping is primitive.  The Lion's Head Beach Park, the municipal campground, will technically be closed but good for camping.  All the RV's will behibernated.  The nine or so tent campsites could be camped on, but the washrooms will be locked, and there will be no running water.  However, it is quiet there, there's a fire pit, and you can fetch your water at Rachel's or the bay if you plan on boiling it.
Nearby Lakeside Rainbow campground will also be closed, so you'll also be out of luck there.  Cape Croker Park has a slightly longer season, but it's probably not worth camping there given the distance.  Bruce Peninsula National Park will be open, but operating with minimal winter season facilities.  Expect only to have primitive toilets, no showers (there aren't any in the regular season either), and no running water.  However, there is a gas station/general store across the highway from the park entrance with facilities.
Rachel's Bakery is alive. In the off-season, Rachel gets a break – after all the hunters, cyclists, and climbers have left.  She'll be experimenting with her vegan, gluten-free recipes, so expect some pleasant surprises.  Rachel's Bakery opens around 8am, just to get your morning coffee, and closes at 9pm.  She also continues hosting some local musicians and offers her daily specials to whet your appetite.  Pretty much all outdoor enthusiasts that happen to be around will gather here.  Excellent food and craft beer selection, as usual.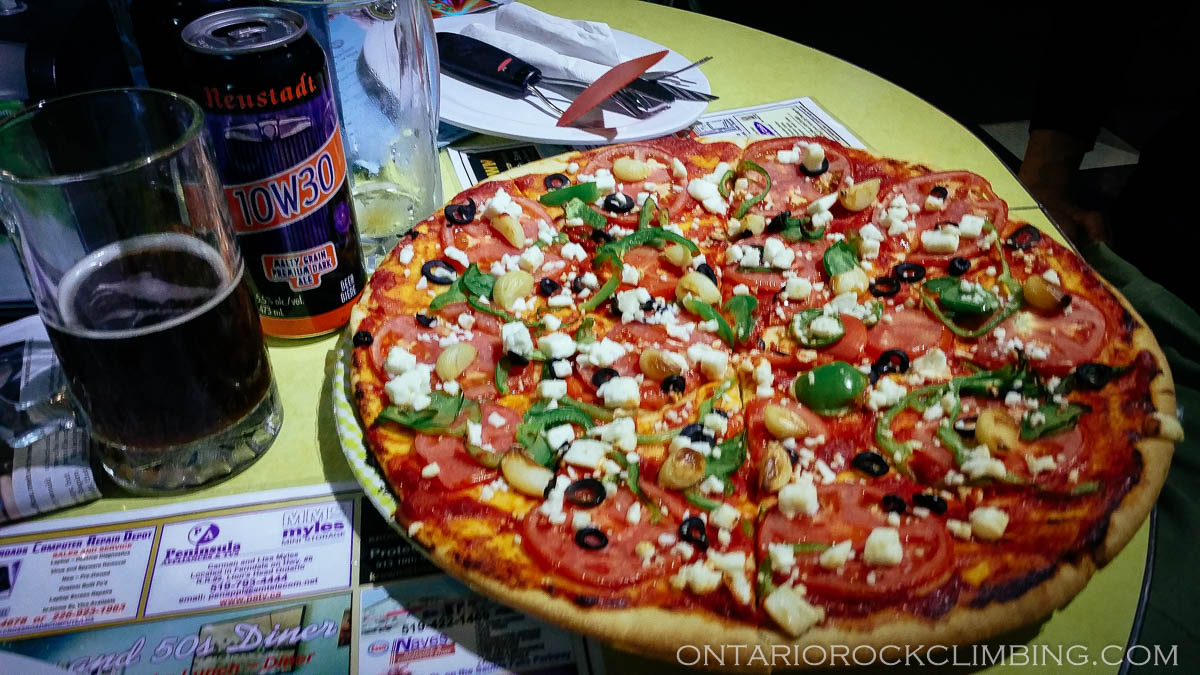 Expect to be alone.  Many climbers head to Lion's Head in the off-season prepared to toprope solo – don't do this unless you really know what you're doing!  Otherwise, your other solo options are bouldering outside of White Bluff or at Halfway Log Dump. Having said that, be prepared to be surprised to find a trickle of climbing enthusiasts from all around the world get one last climb in!
Expect wet routes. Lion's Head doesn't get a lot of sun, so once fall precipitation comes in, it tends to stay.  So pick your routes carefully based on what seems to get the most sun.  Here's our evaluation of some of the major crags.  Mr. Bojangles/Windy City was particularly dry, particularly from the wind exposure.  The Tricks are for Kids ledge was fairly dry.  Lost at Sea had a wet base.  Merchants and Thieves was wet.  Latvian ledge and Scalphunter was wet.  Cumulus wall, which one would think would be dry, was unfortunately wet throughout.  Mainline, ever the classic, reliable route, was fairly dry.
Expect Beautiful Colours. Fall brings with it shorter days, but beautiful deep red sunsets, as you can see below.  If you're fortunate to be at Lion's Head during an Indian summer, enjoy the breathtaking scenery, my friend.