Dear Backers,
I'm pleased to announce that I've begun the print process! As you can see in my vlog update (I moved the vlog to my main Youtube channel), I've done my best to make it the most beautiful climbing guidebook out there. And with my co-authors Jack and Kacy's contributions, the Niagara Glen guidebook is complete. It will still take 2 months to receive the books, but as synchronicity would have it, the Vertical Life app is also ready now, so we'll be giving you app unlock codes soon. Please be patient as we have to message a lot of people.
Our work will also be available on the 27Crags and Sloper Climbing apps with some exciting announcements on the way. All our app partners are run by good people, and we're happy to be working with them.
So as you may have noticed, the book took longer than anticipated as mapping out The Glen was overwhelming, and there were many more bouldering problems we discovered and re-discovered. Initially, I thought the book was going to be about 200 pages or so, but it turned out to be 350 pages – almost exactly the same size as the Ontario Rock Climbing guidebook.
As a result, I'm over budget, and I have a favour to ask of you. I have to absorb the shipping costs I charged in the fundraising campaign to pay for the printing. If you can do a gym pickup, it would be greatly appreciated. I also could use some liaisons to help deliver the books when they arrive. In exchange, I can give you a "triple threat" sticker pack – big waterproof stickers of Ontario Rock Climbing, The Niagara Glen, and Lion's Head. If you live further out or can't pick up for any reason, no problem, I'll ship the book.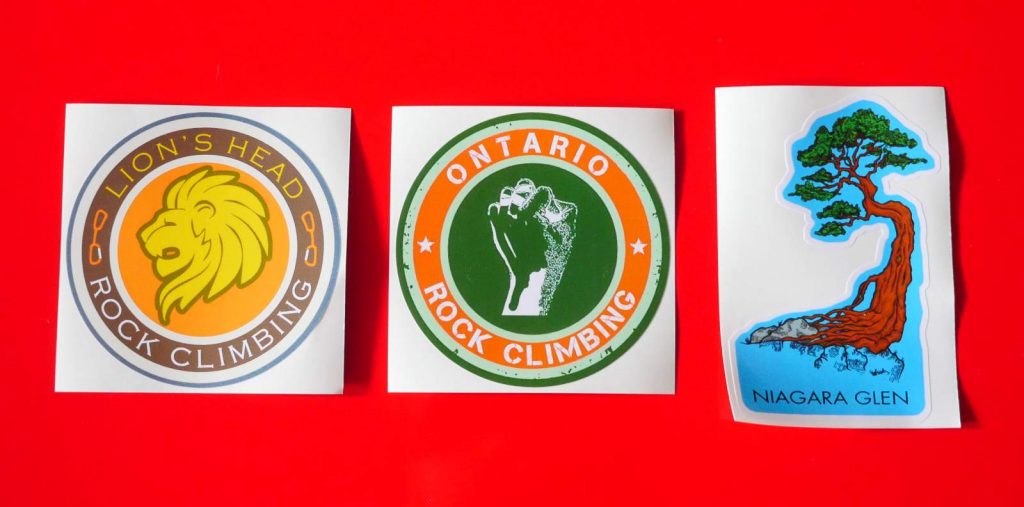 There are SO many people to thank (will be on page 2 of the guidebook), but immediately, I want to thank my co-authors Jack and Kacy, my editing team (Will, Selene, and Neel), the Niagara Parks Commission, the sponsoring companies and gyms, AND OF COURSE YOU FOR YOUR SUPPORT.
Other than that, it's time for me to move onto other projects like my vlog, but I'm also looking for new collaborations, opportunities, mentors, and masterminds, so please give me a shout out! If you want to save me from eating ramen every day, then visit ontariorockclimbing.com/shop, get some belay glasses or my other guidebook, or back me on Patreon (I promise to make lots of Ontario Rock Climbing videos).
Cheers and more to come,
Jesse
p.s. if you like my vlog, check out these interesting episodes!!!
Some canyoneering:

More dancing: