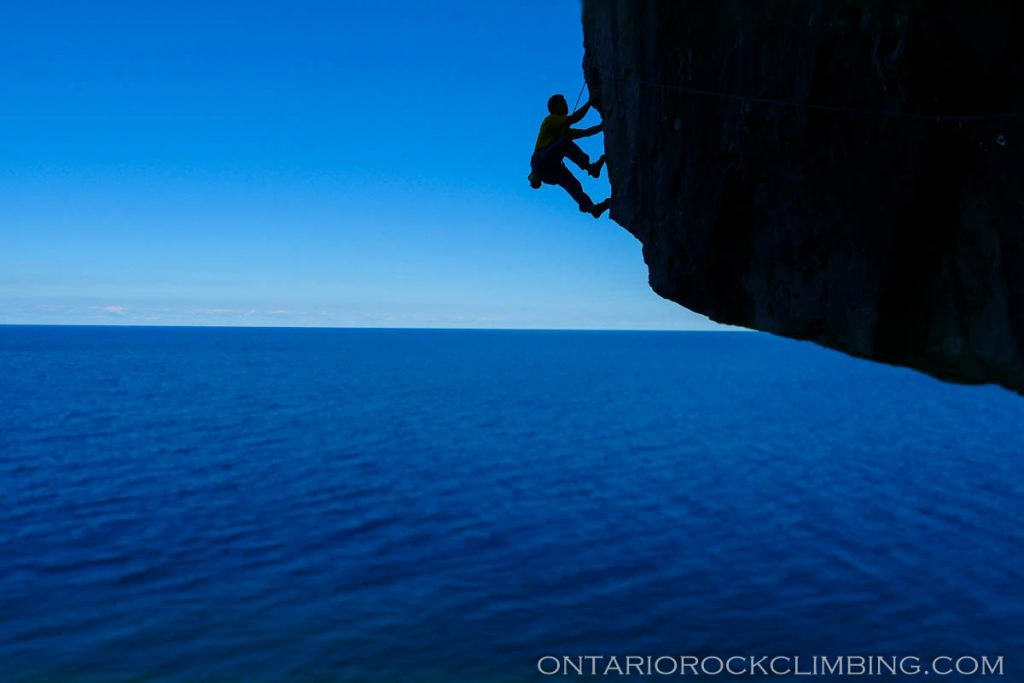 by Selene Ma
Introduction
The history of climbing along the Niagara Escarpment of Southern Ontario is varied and deep. Some of it has been shared in passing stories, some of it has been recorded, and some of it lost along with those who simply went out on the rock, enjoyed and reveled in what they found and accomplished quietly, and moved on.  Since it is not possible to convey all of it in the introduction of this guidebook, this is a very brief summary of what we do know. 
Climbing on the Escarpment began long before many of the current generation (and maybe even before the previous generation) of climbers realize.  Most would be surprised to learn that many of the first climbs in Southern Ontario were established in 1950s to 1960s.  From what written accounts exist, climbs were initially established in Bon Echo, then due to the proximity to Toronto, development in Milton area crags such as Mount Nemo, Kelso, and Rattlesnake Point began as well, in the form that was acceptable and popular at the time – ground up, on lead, traditional climbing.  
1950's
|
Bon Echo
The ascent of Birthday Ridge in Bon Echo on September 1, 1956 is the date of the first recorded ascent in Ontario.  The first ascentionists included Alan Bruce-Robertson, David Fisher, Katherine Starr and Marnie Gilmour – whose birthday it was.  These four would go on to re-form the Toronto Section of the Alpine Club of Canada (ACC) with a focus on rock climbing (there had been an earlier version of the group a number of years back).
Bon Echo saw much attention by British Canadian climbers during this time, and while immigrants from central Europe also visited Bon Echo, they began exploring the limestone cliffs of the Escarpment in the latter half of the 50s. Alf Muehlbauer from Germany, Helmut Microys from Austria, Urs Kallen from Switzerland, and Boris Dopta climbed along the cliffs of Mount Nemo and Kelso.
1960's | Crag explorations and route developments
The '60s saw many climbs put up by the young Europeans: Muehlbauer, Microys, Kallen, Dopta along with Jim White, Chalkey White, Michael Rosenberger (England), and Jim Ferguson (Scotland). Some climbs were also put up by local folks such as John Turner and Eric Marshall (who began climbing with the ACC Toronto section group in 1964 at the age of 15).
When the Toronto section of the ACC built the summit hut atop Bon Echo in 1963, its existence helped to draw in more climbers to the area.  Some notable first ascents include: Boris' Route by Boris Dopta and Chalkey White (1960), John Turner's sends of Sweet Dreams (5.8) in 1960 and The Joke (5.9) in 1961 with Dick Dorling,  Paradise Lost (5.7) and Jolly Folly (5.8) by Helmut Microys and Michael Rosenberger in 1964.   

Milton
It was during this decade that the single pitch limestone cliffs in the Milton area drew much attention from climbers living in or near Toronto as they were quite a short drive away.  Much of this area was developed by Microys and Kallen.  The first cliff Microys describes going to was a small one south of Kelso. Microys and his partner Peter Turner were likely the first to explore Mount Nemo, and Helmut's Route was named in his honour. He put up a number of climbs at Kelso, but had never named them, nor kept any records of the ascents.  Muehlbauer also contributed to establishing a number of routes at Rattlesnake Point and Mount Nemo.
Between 1962 and 1963, the Toronto Section of the ACC painted numbers along the cliff bases of Rattlesnake Point and Mount Nemo.  These numbers were located where a line existed or a potential line could go.  The numbers were recorded on loose pages along with the names of those who had climbed the routes.  Whatever had not been climbed was marked with "UC" for unclimbed.  This was the "guidebook" of the time.  Copying information was challenging in those days, as the Gestetner machine was used to reproduce the sheets. All the information had to be typed on a special sheet and then copies could be made on the Gestetner machine.  If corrections or changes needed to be made, the entire sheet had to be retyped.  Given the volume of new routes being established, the listings could be very out of date by the next week.  Dates and first ascensionists (FA) were not always recorded and all of this has led to incomplete information regarding climbs in future guidebooks.
Eric Marshall and Helmut Microys put up Two Pieces (5.9) and Showpiece (5.9) at Rattlesnake Point. (Interesting note: Microys had rappel-bolted two bolts on Two Pieces, which was an unconventional method at the time, nor was it well-known that this was done.)
As the end of the '60s neared, a number of these climbers married and started families and moved on with their lives, while some moved on elsewhere (in some cases, to bigger and more adventurous walls out west).  

Beaver Valley and beyond
Microys and partners explored and climbed beyond Milton to places such as Barrow Bay after he reviewed some maps at the University of Toronto Geology department for lines of convergence (cliffs).  Metcalfe Rock was also likely first climbed and explored by Microys and his climbing partners.  While Microys was president of the U of T outing club in 1963, a small parcel of land was purchased there.  The U of T cabin was eventually built around 1968. Devil's Glen was avoided due to the high amounts of poison ivy.
1970's | Milton area focus
As the regular faces of the '60s moved on, a new crew of climbers moved in during the '70s including: George Manson, Rob Rohn, Dave Lanman, Mike Tschipper, Chris Rogers, and Tom Gibson.  Some of their notable ascents include Gibson freeing the roof Export (5.10) at Rattlesnake in 1975, Space Case by Rohn and Tschipper in 1979 (Ontario's first 5.11), and Mason's final contribution, Fearless Warrior (5.11a) at Cow Crag. In July 1980, the local climbing community suffered a devastating loss as Manson and his partners Al Chase, Sean Lewis, and Dave Carroll disappeared on Mount McKinley.  Some of this crew gave up climbing, others like Rohn and Microys moved west to the Rockies.  The outdoor climbing scene in Ontario began to change shape again.  
Some notable events of the decade were:
L'Idiotie

(5.10 at Bon Echo) was freed in 1971 by Eric Marshall and Werner Heiss (originally put up in 1964 by Dick Dorling and Claude Lavalée).

The Toronto Section of the ACC makes first mention of a trip out to Old Baldy in 1972.

1980's | The beginnings of bolted climbs
The scene of climbers were more locally based in the '80s.  We saw the emergence of folks like John Kaandorp, Pete Zabrok, Steve de Maio, and Chas Yonge from Hamilton, and from the Toronto area: Chris Oates, Judy Barnes, Marc Bracken, Tom Valis, Martin and Karl Seidenschmid, Bob and Cinta Bennell and the Smart brothers – Dave and Reg.  This crew led to a great development of a number of crags along the Escarpment.
This decade also saw a shift in climbing –  rappel-bolted routes were on the rise, not only in Ontario, but throughout North America, but not without controversy wherever they occurred. Dave Smart led this new approach of putting up new climbs by placing one bolt on rappel at Cow Crag on Moby Fly in 1983. He followed that event by rappel-bolting High Society at Mount Nemo. These two acts caused quite a bit of uproar in the local climbing community.  Moby Fly being bolted was controversial as others felt it was unnecessary given that the route had been sent in the traditional method in 1978 by George Manson and Dave Lanman.
The ground-up lead traditional approach was still widely practiced in the '80s.  Steve de Maio put up a number of climbs at Mount Nemo, Nemo South and Devil's Glen; and Chas Yonge put up a number of routes at Buffalo Crag. John Kaandorp and Pete Zabrok developed many classic trad lines at Metcalfe and Old Baldy.
In spite of controversy, rappel-bolting began to take a hold in Ontario through the mid to late '80s.  Formerly "unprotectable" faces were now perceived as opportunities to put up new exciting lines and as places to raise the bar of climbing.  An established crew took up this new method and made their way through the Escarpment.  Old Baldy became a sport climbing destination through the work of Chris Oates, Judy Barnes, Marc Bracken, Tom Valis, and Martin Seidenschmid. Lion's Head saw the same team along with Reg Smart and Ziggy Isaac descend upon its faces.  Oates and Barnes were instrumental in developing the classic climbs found at White Bluff. The Bennell team pushed sport climbing development at TV Tower and Karl Seidenschmid did the same at Mount Nemo.
Though routes were being bolted up and down the cliffs, bolts were still placed sparingly, using gear placements where possible – resulting in some scary lead routes, Far From the Maddening Crowd and Making Waves (both at Lion's Head) are some examples (though Making Waves has been retro-bolted in 2014 and more than double the number of original bolts have been put in to make this a safer lead.)
Through bolting, climbing grades pushed into the 5.12 range with the work of Martin Seidenschmid, Chris Oates, and Bob Bennell.  Oates continued to push into the 5.13 range with routes such as Laputa and The Victim (both at Lion's Head)

1990's | Cliff closures and the "Dark Ages"
The '90s began with a bang – Lion's Head was the hot spot of sport route development – The Bennells, Oates, Bracken, and John Weir established a number of classics through rappel-bolting.  We even saw hard English climber Jerry Moffat come to Lion's Head and send Big Kahuna 5.13d. The number of routes available along the Escarpment and the range of grades grew dramatically.  But this would not last. In 1991, two scientists, Doug Larson and Peter Kelly, released the results of a study on ancient cedars along the Niagara Escarpment.  This study had a very negative impact on the climbing community.  Although the results from the study were inconsistent, it led to Old Baldy and a number of other cliffs being closed to climbing.  A follow-up study with different results could not undo the closures.  Public opinion became that climbing was not compatible with the Niagara Escarpment.
It was also during this decade that bouldering grew in popularity.  Climbers descended on the boulders of the Niagara Glen and Halfway Log Dump (HWLD).  Concerned with the negative impact that climbers were having, landowners subsequently closed HWLD.
With many closures, crag developments stalled during this time and seemed to fade.  This period was perceived as the "Dark Ages" for outdoor climbing, though some good came of this period.  With Judy Barnes taking the lead, the Access Committee of the ACC – Toronto Section (predecessor of the Ontario Access Coalition – OAC) was formed and was able to negotiate with the Grey Sauble Conservation Authority to establish a climbing permit system and climbing was reopened at Old Baldy.
It was also during the '90s that the first climbing gym in Canada was opened.  On June 30th, 1990 Joe Rockheads opened in Toronto.  Shortly after, the Toronto Climbing Academy opened in 1993.  Climbing was now accessible to anyone who was interested and not just for those who only ventured outdoors. As more gyms opened, the population of the climbing community grew.  More people were interested in both indoor and outdoor climbing.

2000's to now | OAC and shift in focus
The last guidebooks for Southern Ontario climbing were printed in 1997.  20 years have lapsed since then, but development did not stop with them.  In the 2000s until now, a new generation of climbers took up the mantle of finding and developing climbs.  Certainly development on traditional climbs was reduced in comparison with bolted sport climbs – made easier by the availability of power drills and a shift in overall climbing methodology and ethics regarding how climbs are put up. Lion's Head saw the creation of hard and steep lines by folks like Daniel Martian and Gus Alexandropoulos.  In recent times, more lines were established by the work of Greg Williamson, Dave Zielienewski, and countless others. Devil's Glen saw focus by Randy Kielbasiewicz (who worked to ensure climbing was reopened through the OAC) and recent route development by Mark Smith and Aaron Brouwers, to name a few. The Swamp was almost entirely developed by a small dedicated group, including Gus Alexandropoulos.  These developments coincided with the rising popularity and increased number of climbing gyms (there are currently 8 climbing gyms within the city of Toronto.)  As a result, over the last 15 years, the population of rock climbers has grown dramatically.  At the same time, there was a shift in climbing culture, as climbers heading outdoors were not only seeking the expanses of nature and adventure, but also places to test their mettle. Grade development was pushed in Southern Ontario during these times and we saw more routes move through 5.13, and then 5.14 range – with the most difficult grade established of 5.14d, Forever Expired at Lion's Head, put up by the legendary John Weir and sent by Sonnie Trotter.
With a growing climbing population, access (to cliffs) became the major concern and focus for the sport. The OAC was incorporated in 2009.  See page 24 regarding the OAC.
Some of their major achievements include:
2010 Spring – Worked with the Bruce Peninsula National Park (BPNP) to re-open HWLD to climbers.

2010 – The OAC met with the

Ministry of Natural Resources (MNR) to prevent closure of the Swamp (a cliff previously developed without permission of the landowners).

2013 – Rules and a boulder pay permit system was established with Niagara Parks Commision (NPC) to ensure climbing stayed open in the Niagara Glen.

2014 – Through a collaborative funding effort between MEC,

Grey Sauble Conservation Authority, Bruce Trail Conservancy

, ACC Toronto Section, ACC National, Nature League and Ontarioclimbing.com, the land adjacent to Old Baldy was purchased.  This land is crucial for through-access to the cliff.  With this purchase, climbing is officially permitted at Old Baldy.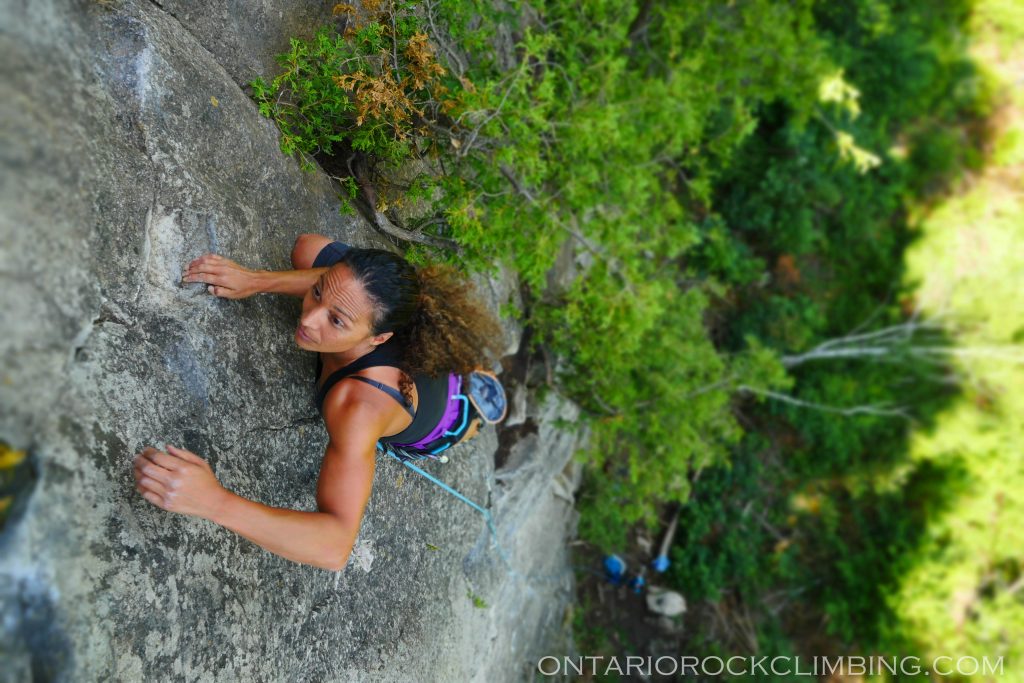 Conclusion
It is interesting to note that ascents completed in the '50s through the '70s were recorded as partnerships, rather than solely by the first person to complete the climb.  Climbing focus has evolved greatly over the last 60 years in regards to ethics, in how ascents are recorded, in equipment… In many things and in many ways!  Currently, most climbing achievements are measured in the great physical prowess of an individual or in a person's creativity to seek out a unique line and then subsequently "crush" it.  We speak less of partnerships for accomplishment and more of someone's super human strength or singular dedication or both.  Nowadays, it seems that we are more concerned with sponsorship and recognition than simply going outdoors and enjoying ourselves anonymously.  This is not a critique at how climbing has devolved – but more an observation of how climbing culture has shifted over the decades.  Another shift is the concern of access. Access to cliffs in Ontario has always been a privilege.  Not a single cliff in Ontario is owned by climbers – they are either crown and park lands or in the hands of private landowners.  It is ever important to ensure that we are good stewards of the lands that we have the privilege of accessing.  Only with positive and established relationships can we ensure that the beautiful Escarpment remains open to climbing.
The history of climbing is incomplete for a multitude of reasons and like the history of anything worth noting (or that has been noted), it is often biased and is only available from those that had taken the time to make a record. Though much was learned during the research process, we are well aware that the history we have provided above is not a full version.  We appreciate the help with corrections that was provided to us by those who were willing to supply them.  If there are any names of contributors that we have omitted, please forgive us, it is not intentional.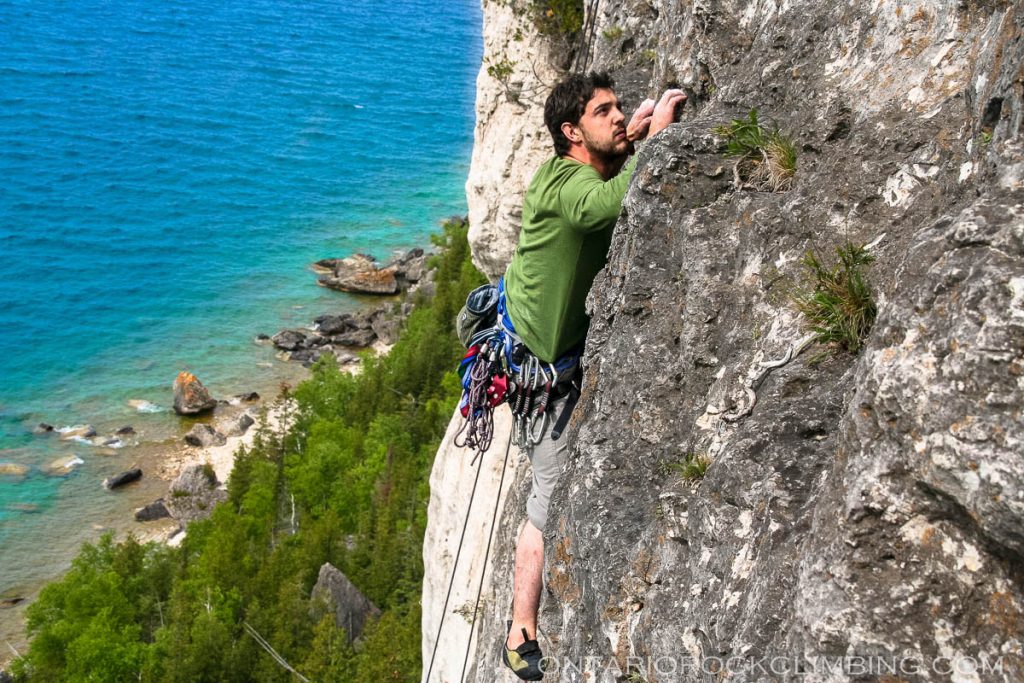 Fun Facts:
In the '80s, while putting up routes at Old Baldy, Kaandorp and Zabrok were surprised to find a summit cairn atop the Central Pinnacle, as the only way to the top was through technical climbing and they had not placed that cairn.  

When Peter Croft was introduced to

The Monument

, he proceeded to flash the impressive 5.12+ horizontal roof crack at White Bluff (also taking the first free ascent in the process.)

The Victim

at Lion's Head is named for Judy Barnes for when she was on the hanging belay while Oates climbed.

Many of the 5.10s put up by John Weir at Lion's Head are famously stiff for the grade.  He believed that if he could send it, it could not possibly be 5.10!

While on the first ascent of

Forever Expired

, Sonnie Trotter had blown a tendon in his hand leading him to move away from sport climbs and towards putting up incredible trad lines such as the

Cobra Crack

in Squamish.

The Golden Hour

was sent by Greg Williamson right at sunset – thus inspiring its name.

The first Beaver Valley Climbing Festival was in 2014 and was held in Metcalfe. This was the first climbing festival of its kind in Southern Ontario.

In 2015, Sabrina Chapman was the first female to send a 5.13d in the province with her ascent of

Man in Me

.
Sources
1. Adcock, Stephen W. and David R. Brown. A Guide to Rock Climbs at Bon Echo 5th Edition. Toronto: Alpine Club of Canada – Toronto Section, 2009.
2. Bracken, Marc and Judy Barnes and Chris Oates. The Escarpment: A Climber's Guide. Toronto: Borealis Press, 1991.
3. Microys, Helmut. Email interview. 06 Mar 2016.
4. Oates, Chris and Marc Bracken. A Sport Climbers Guide to Ontario Limestone. Toronto: Borealis Press, 1997.
5. Ontario Access Coalition. "Old Baldy: An OAC Success Story." Accessed March 14, 2016 www.ontarioaccesscoalition.com/2014/10/20/old-baldy/
6. Ontario Access Coalition. Old Baldy Climbing Guide. Canada, 2015.
7. Ontario Access Coalition. "Timeline of Ontario Climbing." Accessed March 14, 2016 www.ontarioaccesscoalition.com/resources/for-land-managers/timeline-of-ontario-climbing/
8. Scott, Chic. Pushing the Limits: The Story of Canadian Mountaineering. Calgary: Rocky Mountain Books, 2000.
8. Smart, David. History to A Sport Climbers Guide to Ontario Limestone, by Oates, Chris and Marc Bracken. 10-12. Toronto: Borealis Press, 1997.
10. Valis, Tom. Escarpment Climbing History to The Escarpment: A Climber's Guide, by Bracken, Marc and Judy Barnes and Chris Oates. 3-5. Toronto: Borealis Press, 1991.