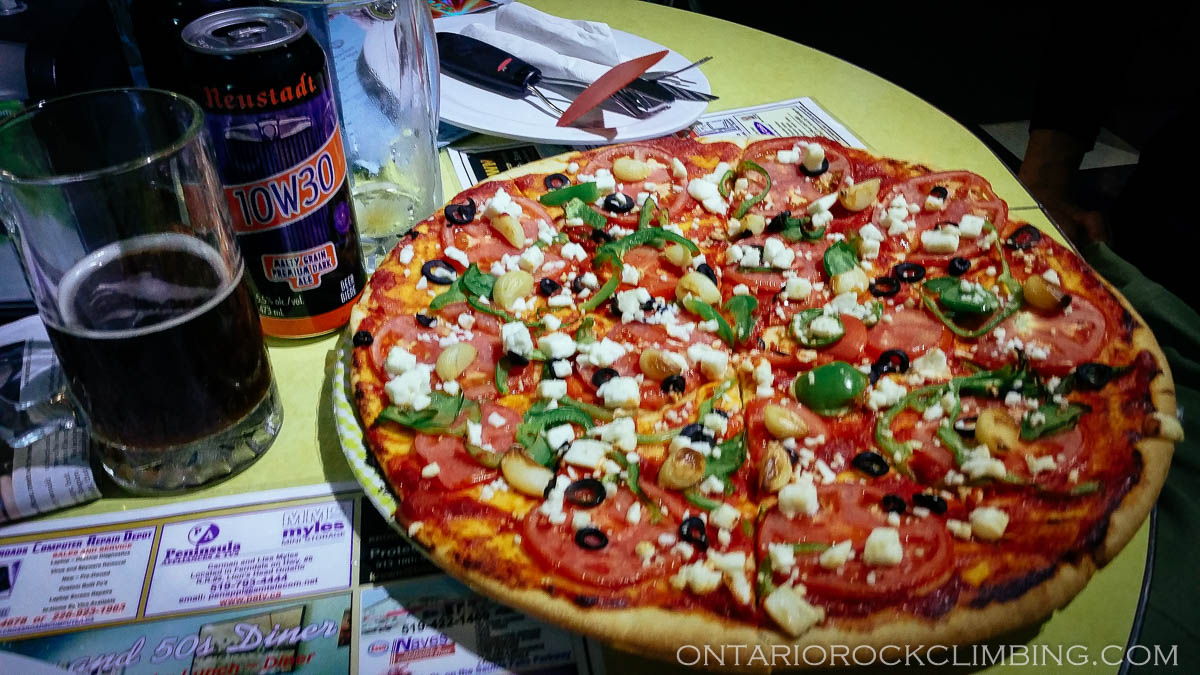 Welcome to the Town Of Lion's Head! Here is some updated food, accommodation, and local business information for climbers and travellers.
Food
Rachel's Bakery And 50's Diner – Pizzas, burgers, dinner fare, and plenty of vegan and gluten-free options. Daily specials and live music on quieter evenings. Good beer selection, crag food, coffee, and gifts. 79 Main Street, Lion's Head (519) 793-3982
Marydale's Family Restaurant – Breakfast, burgers, and all day breakfast. Good value. 76 Main St, Lion's Head (519) 793-4601
Lion's Head Inn – Pub food, beer, and entree dinners. 8 Helen St, Lion's Head, ON , (519) 793-4601
www.lionsheadinn.ca
Harvest Moon Bakery – Organic baked goods, about 5 minutes north of the main town of Lion's Head. 3927 Hwy 6, Lion's Head, ON  (519) 592-5742
LCBO (Beer) – 1 Ferndale Rd, Lion's Head (519) 793-3355
Tobermory – Located about 45 minutes north of Lion's Head, Tobermory is a pleasant town to visit and stroll around in. Plenty of fish and chips places abound serving the local whitefish. Fine dining options too.
Tobermory Brewing Co. & Grill – Craft brewery and food. Closed Mondays and Tuesdays. 28 Bay Street, Tobermory 519-696-8181 www.tobermorybrewingco.ca
Grocery
Foodland – 7 Webster Street Lion's Head (519) 793-3415 Mon-Sat. 8am-6pm. Closed Sundays
Garden in Thyme Country Market – Local produce and gifts. 3088 Bruce County Road 9, Lion's Head, (519) 793-4303
Lion's Head Market – Saturday mornings from 9am-12pm, Victoria Day weekend (end of May) to Canadian Thanksgiving weekend (beginning of October). Food, crafts, and live music on the beach. 1 Forbes Street, Lion's Head (519) 793-6125
Other Businesses
AromaSense Massage & BodyWorks – 193 Tamarac Rd, Stokes Bay (519) 477-0756
The Dandy Lions-Head – Souvenirs and gifts, including many Canadian creations. 84 Main Street, Lion's Head (519) 793-3351
Accommodations
Note: Camping aside, accommodations are usually fully booked in July and August during the weekends, so plan ahead!
Lion's Head Cottage Rentals – Several cottages in Lion's Head for rent. Popular with climbers. www.lionsheadcottagerentals.com
Lion's Head Beach Motel – 1 McNeil Street, Lion's Head (519) 793-3155
Northwinds Motel – Just outside the main town of Lion's Head, 2838 Highway 6, Ferndale (519) 793- 4594
The Fitz Hostel – Recently opened hostel. 8 bunks, 1 private room, big common area, and a garden you can eat from. $39+ 4 Mill Street, Lion's Head (519) 793-4267 www.thefitzhostel.com
Lionheart Guest House – Themed rooms and a historic Victorian guest house on a beautiful property. $100+/night 89 Main Street, Lion's Head (519) 793-3325 www.lionheartguesthouse.com
Lion's Head Inn – Has two cozy rooms that can be rented above the pub. 8 Helen St, Lion's Head, ON (519) 793-4601 www.lionsheadinn.ca
There are also several more Bed and Breakfasts and cottages in town – many are listed on airbnb.ca
Accommodations – Other
Lion's Head Beach Park – About 10 tent sites in an RV campground near the beach. Central location. No electricity for tent sites. $27.50+/night (2 adults) 1 Forbes St , Lion's Head, N0H 1W0 (519) 793-3522
Hope Bay Campground – Family campground with sandy beach and amenities. Tent camping is $35/night + $10 for each additional vehicle. A few good secluded campsites.  Website 2 Hope Bay Rd, South Bruce Peninsula (519) 534-1208
Lakeside Rainbow Park And Cottages – About a 10 minute drive directly east across the peninsula to the Lake Huron side. Mostly camping between trailers with a chance at some secluded spots that are usually booked. Site options include electrical hookups. About $10/person 199 Burma Road, R.R. #2, Lion's Head 519-793-3414
White Bluff Campground – Located very close to White Bluff. Beach access (rock). Some sites have electricity. Gets more wind, less bugs. 239 Isthmus Bay Rd, Lion's Head, N0H 1W0 519-793-3774 $10+ person/night, or $20/tent (great if you have a jumbo Costco tent)
Mckay's Harbour – Backcountry camping. Hike northeast on the Bruce trail to where Lion's Head cliff tapers off. No fires. Free if you're willing to hoof or sail to it.
Bruce Peninsula National Park, Cyprus Lake Campground – About 20 minutes north of Lion's Head. 232 campsites. No electricty. Pay showers are located outside the campground. Typically full on summer weekends. Cyprus Lake Rd, Tobermory, ON. Reserve via www.reservation.pc.gc.ca 1-888-773-8888
Cape Croker – Located on a native reservation, about 20 minutes south of Lion's Head. Large camping area with wooded, bech, and open camping. Rates start from $35/night for a tent site for 2 adults with electricity. More secluded, but quite far from Lion's Head. Has a climbing crag nearby that's a bit overgrown. 112 Park Rd, Wiarton, ON (519) 534-0571 www.capecrokerpark.com